The 7th Kansas Cavalry in the Civil War -
the Fletcher Pomeroy Diary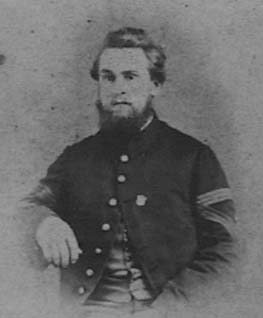 Fletcher Pomeroy

My great -grandfather, Fletcher Pomeroy was a member of Company D, Seventh Kansas Cavalry, (also known as Jennison's Jayhawkers) and later quartermaster sergeant of the regiment. He maintained a daily diary most of his life, which spanned 86 eventful years from 1841 to 1927. In 1915 he transcribed the portion of his diaries dealing with the Civil War, and gave a typed copy to each of his sons. His youngest son, Fletcher W. Pomeroy (my grandfather) passed his copy of the diary to his only son, Orville Pomeroy (my uncle).
Fletcher's brother, Emerson, was also a member of the 7th, and both served throughout the war.
Evelyn Boone transcribed the diary for the Pomeroy family, and has given me permission to use her disk copy, for which I am very grateful.
The diary is over 300 pages typewritten. Lengthy excerpts from the dairy are provided here, and changed regularly, so you may want to bookmark this page. Copies of of the entire diary, or sections by year, may be acquired through the Sutler's Store.

If you want additional information, contact: Email David Habura at dave.paul@ worldnet.att.net